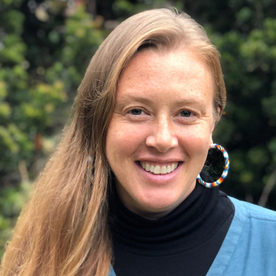 Risa Blumlein Keeper
As Interim Director of Catalytic Capital I lead our organization's emerging body of reparative soft debt and grant making work, focusing on Black- and Brown-led projects and including: unrestricted and restricted grant making, recoverable grant making, forgivable lending, and 0% and low-interest lending. Within Catalytic Capital we are also exploring ways to influence more catalytic capital investments from our peer institutions through our work with the African American Equity Impact scorecard and the Community Cultural Wealth framework. Prior to my work on catalytic capital I was a financial management consultant on Community Vision's Real Estate Solutions team, supporting nonprofits in understanding their business model and financial position and planning for future financial stability.
Before joining Community Vision I was Finance Director at Social Venture Network, a membership association of socially-responsible business leaders and impact investors, an organization that has since merged with Investor's Circle and American Sustainable Business Network. From 2011 to 2015, I served as Deputy and Interim Executive Director of the Iyengar Yoga Institute of San Francisco, a 40-year-old yoga center and teacher training program with a related regional membership association. I have served on a number of volunteer boards and committees, most recently on the fundraising committee of the SF Wholesale Produce Market to support their $100 million capital upgrades project, on the advisory board of the Garden for the Environment, and on the CFO Task Force on Nonprofit Overhead for California Association of Nonprofits. I am a fifth-generation San Franciscan, raising three sixth-generationers in the Presidio neighborhood of San Francisco.