Lending
Communities on the margins of opportunity deserve a trusted partner on their journey towards financial growth and stability.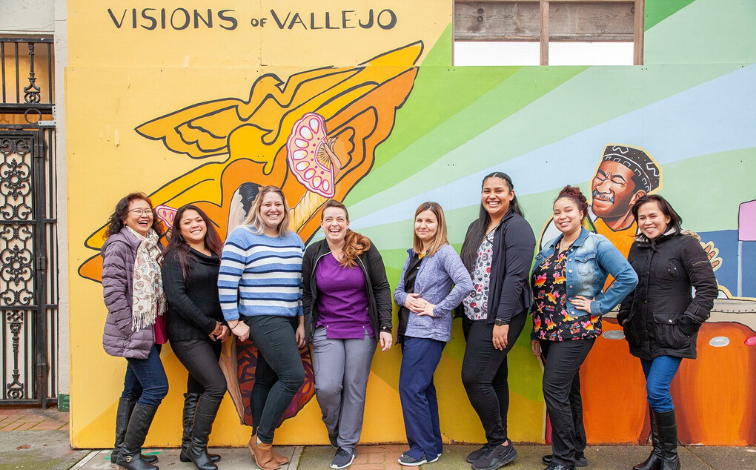 From working capital to building loans, Community Vision provides nonprofits and social enterprises the financing they need to make a difference in their communities.
We are committed to offering vital support that places our clients on a path toward equitable financial opportunity. We provide fair access to multiple forms of capital and together, we identify and create a strong strategy for securing the necessary resources for your organization's goals.
We fill the gap for communities with low financial wealth who have been systemically limited in their access to the vital resources they need to obtain financial freedom. As partners, we work alongside our clients to foster revitalized, equitable, and vibrant communities.
Community Vision aims to advance economic and racial equity and to support security of place for families and nonprofits. Community Vision's strategies for achieving these goals include:
Community Vision advances economic equity by providing products and services to enterprises that 1) lack access to capital, and/or 2) fulfill a community need, such as opportunities for ownership, leadership, economic resilience, and quality employment for those who are systemically disadvantaged.
Community Vision advances racial equity by supporting enterprises owned and led by people of color, and/or organizations that address issues of significance to communities of color.
In order to meet the needs of low- and moderate-income people, Community Vision preserves and supports community through lending that fills a gap in the regional housing market. In addition, Community Vision supports the growth, impact, and sustainability of nonprofit organizations aligned with our mission by providing products and services that build capacity, sustain facilities, and enhance community.
COVID-19 STRATEGY
Over the last 32 years, Community Vision has been a dedicated and responsive partner to our clients, allies, and communities. As we collectively face the economic challenges brought on by COVID-19, we are deeply committed to navigating these uncharted waters with all of you.
Please note that at this time we are prioritizing loans that will support organizations responding directly to the crisis with essential services and products. If you have a loan inquiry not connected to emergency response, we still want to know about it; we just may not be able to address it until the worst of this crisis has passed.
Examples of these priority responses include a food bank developing a grocery delivery program for low-income families; a homelessness agency doing rapid re-housing to prevent Coronavirus from sweeping through unhoused populations; and a rural small business development center helping to preserve needed jobs in a high-poverty county. If you have a borrowing need that contributes to your community's response to this emergency, please get in touch. Our rapid response funds are limited, but we will do our best to meet your needs ourselves or with partners.
To learn about our free rapid response technical assistance for nonprofits, which includes office hours with our expert financial management and real estate consultants, a webinar series, and downloadable resources, please click here.
If you are a current Community Vision borrower whose cash flow has been interrupted by the COVID-19 crisis, and would like to discuss a flexible repayment schedule, please contact us.
We offer investment in the form of loans which range up to $3.5 million. We finance working capital and real estate projects, offering more flexible terms than conventional lenders. Our flexible terms include bridge loans (short-term), lines of credit (an amount of credit extended to a borrower), and general working capital loans (supporting everyday operations) with interest rates between 5-7%.
Our loans support 6 types of projects:
Affordable Housing – loans supporting all phases of the development of all types of housing–from multi-family rental to homeownership
Community Facility – loans financing the construction or rehabilitation of essential human service facilities
Economic Development – loans for ventures producing jobs and financial stability, including worker-owned cooperative businesses
California Freshworks: Healthy Foods Initiatives – loans supporting the development of grocery stores, markets and other innovative forms of healthy food retail and distribution to communities that do not have them
California Fisheries – loans supporting fishermen and fisheries-related businesses and nonprofits
Operating Lines of Credit and Working Capital – loans uniquely designed to aid nonprofits in meeting cash flow requirements
All applicants must:
Be located within California.
Demonstrate evidence of fiscal soundness, managerial competence, ability to meet the terms of the proposed loan, and general creditworthiness.
Be nondiscriminatory in labor and business practices, not be engaged in military, defense, or nuclear-related business, and be in compliance with federal, state, and local regulations regarding air, water, and land use, toxic materials, hazardous waste, and occupational safety.
Term

Up to 10 years

Lines of Credit

12 months (renewable)

Loan-to-Value

Up to 90%

Interest Rate

Real Estate: 5.75%-6.25%
Working Capital: 6.25%-6.75%
Possibly lower for very high impact projects.

Loan Fees

1.5%-2% including application, commitment, and closing.

Collateral

Real estate preferred but will consider other types of collateral. Subordination to conventional lenders considered.
Interested in a loan?
Contact us.