APPLICATIONS NOW CLOSED
Performing Arts Acquisition Fund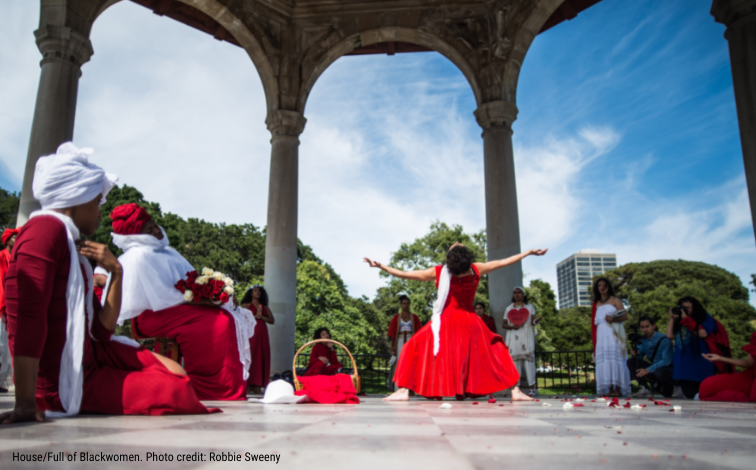 In 2021, Community Vision announced the availability of space acquisition grants for organizations that practice and perform artistic and cultural forms of creative activity, expression, preservation, and healing, reflective of the communities they serve. In January 2022, $3 Million was awarded to support five BIPOC-led community organizations with real estate acquisition.
Grant funds support real estate acquisition for organizations that meaningfully engage in the artistic and cultural vibrancy of communities throughout the Bay Area but operate on the fringes of existing arts infrastructure and face a high degree of constraints that limit the ability to generate capital. Priority went go to projects led by organizations that are driving change and amplifying visions for their own communities.
Application Process
Step 1: IS YOUR ORGANIZATION ELIGIBLE?
Eligibility requirements include:
Must be located in the following counties: Alameda, Contra Costa, Marin, Napa, San Francisco, San Mateo, Santa Clara, Santa Cruz, Solano or Sonoma.
Must practice and perform artistic and cultural forms of creative activity, expression, preservation, and healing, reflective of the communities they serve.
Must be seeking to own and operate real estate.
Must have site control by Friday, October 1, 2021.
All business structures eligible.
For additional program information, please review the program guidelines.
Step 2: REGISTER FOR AN APPLICATION INFORMATION WEBINAR 
We hosted two informational webinars. You can watch the recording.
Step 3: READ THE FREQUENTLY ASKED QUESTIONS (FAQS) FOR ADDITIONAL INFORMATION. 
You can access the FAQs by clicking here. 
Step 4: SUBMIT A LETTER OF INTEREST
Applications are now closed. If you have a question, please email us at grantmaking@communityvisionca.org.
ABOUT THE REVIEW PROCESS 
Community Vision, in partnership with Facilities, Arts, and Communities Experts (FACE), will review LOIs and invite program-aligned projects to complete a full application. These invitations will be issued the week of August 9th, and full applications will be due Friday, October 1, 2021. The FACE panel along with Community Vision will use the below review criteria to guide final decisions about which organizations are invited to complete a full application. The FACE group is a panel of local experts who are experienced arts, culture, and community development leaders that will assist Community Vision with making funding recommendations. Panelists bring unique geographic and industry perspectives, and are deeply-rooted members of their communities. Learn about the panelists.
Review Criteria: 
Mission fit (20 points): Demonstrate how your organization and your project meet the goals of the Hewlett Foundation's Performing Arts Program and Community Vision, as described in the program guidelines.
Track record and organizational impact (20 points): Describe how you meaningfully engage communities through your practice.
Degree of ongoing financial constraints (20 points): Tell us about your organization's business model, funding sources, fixed costs, and cash flow.
Project readiness and viability (20 points): Explain how you envision completing your acquisition, putting the property into service, and financially sustaining the space long-term.
Project's short- and long-term impacts (20 points): Describe the impact your project will have on your organization and your broader community(ies) in the short- and long-term.
Application period opens: Monday, May 17, 2021
Application information webinars:
Letter of Interest Due: Friday, July 2, 2021 by 12 pm PST
Invitations to submit a full application issues: Week of August 9, 2021
Full applications due: Friday, October 1, 2021
Grant awards announced: Week of November 29, 2021
Grant disbursement deadline (deadline to close acquisition): July 31, 2022
Ongoing technical assistance available to grantees: December 2021-October 2022
Application Information Webinars
Join us to learn more about the programs and application process.