May 26, 2020
In 2015, Barney and Evelyn Santos were driving along Whittier Boulevard in downtown Montebello, when they noticed a recurring pattern of empty storefronts with broken windows and trash strewn along the street. As residents of Montebello, they felt a concern about the city's future and they were driven to understand how the community could revive a once thriving downtown.
Montebello, located in Eastern Los Angeles County, has been a long standing Native and Mexican community. The community first developed in the late 1700's as part of Mexico's mission expansion using the rancho land grant system. In 1905, Simons Brick Company Plant #3 was built in Montebello on property that was formerly part of the Mexican land grant, Rancho La Merced. In the early 20th century, Mexicans that had been recruited for labor by American railroads were given free rail passage to main U.S. cities where other U.S. companies were seeking a labor force, which brought workers to the area. Montebello was incorporated in 1920, and the city's inhabitants became a major labor force building the neighboring City of Los Angeles brick by brick. The legacy of a predominantly working class Latinx or Mexican-American community remains in Montebello with a population of 63,000, 90% of whom are Latinx and Native.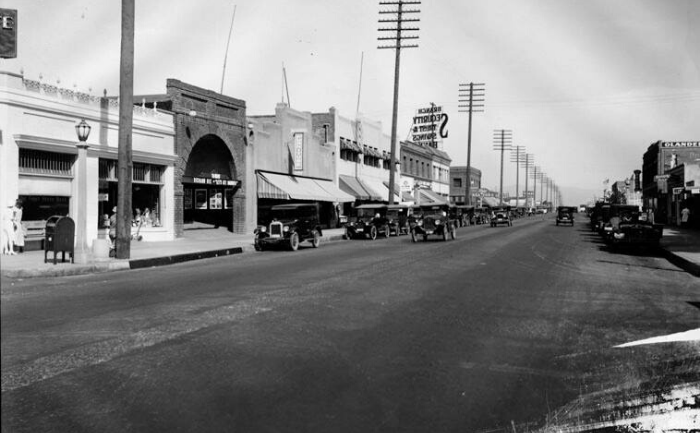 However, with mounting real estate pressure, economic inflation, and discriminatory financial practices, communities across California, such as Montebello, are experiencing push out and displacement, commonly referred to as gentrification. This is happening, also in part, because developers often do not consider how to preserve the cultural and historic fabric that weaves a community and holds it together. Inspired by the anti-gentrification movement happening in the nearby Boyle Heights neighborhood in 2015, Barney and Evelyn launched Gentefy Inc., a development agency focused on projects located in marginalized Latino neighborhoods.
A play on the word gente (meaning people, or folks, in Spanish) and the concept of gentefication, Gentefy embodies the action of a community investing in itself. "It is the opposite of gentrification, where outside investors and developers come into a neighborhood that they have no connection to and build a project that may not benefit the people who already live there" explains Barney.
Development Rooted in the Community
Over the last four years, Gentefy has developed a track record for supporting entrepreneurs in the Los Angeles region. From promoting businesses on social media as a way to engage younger generations, to developing digital apprenticeships for the City of Downey, and now supporting local food entrepreneurs through BLVD MRKT, Gentefy's first development project. Located on Whittier Blvd in downtown Montebello, BLVD MRKT will feature an indoor/outdoor artisan food hall and food business incubator that will help revitalize a corridor with a deep history of Native, Mexican American and Chicano culture and social life.
For more than a year and a half, Gentefy engaged the community, including connecting with local elected officials, business owners, and by hosting roundtable discussions. Gentefy sought to truly understand what residents wanted to see in downtown Montebello. After connecting with more than 250 people of various ages and ethnic backgrounds, it became clear that the community wanted places to go that create an experience; something more than just sitting down and eating.
"We kept hearing there's nothing to do here in Montebello, so we knew there was an opportunity for a development project that connected people to downtown," said Barney.
The project, five years in the making, is currently in the construction phase. BLVD MRKT will repurpose a brick building and 7 shipping containers into an indoor/outdoor artisan food hall and small business incubator with two indoor kitchens, a beer tap, and a variety of food and beverages. Inspired by the plazas and market squares in Mexico and Europe, BLVD MRKT will use architecture and design to facilitate social interactions, build community, and revitalize the downtown economy.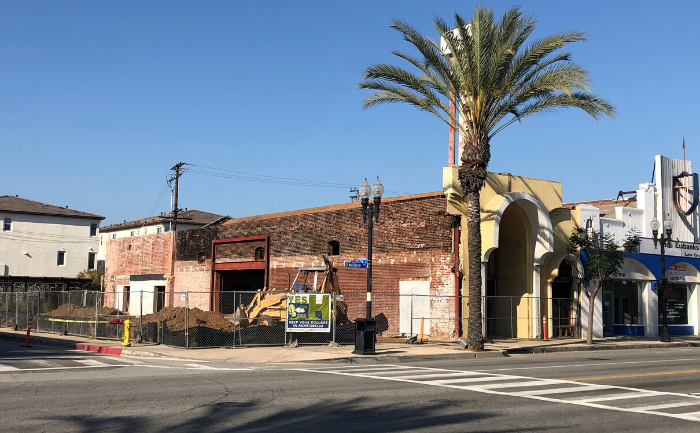 BLVD MRKT is a partnership between Gentefy, the City of Montebello, and Community Vision's California FreshWorks program. Genesis LA, a FreshWorks network lender, has supported Gentefy through the rigorous process of financing a development project. In 2019, Gentefy was awarded a $49,000 FreshWorks technical assistance grant for a portion of the project's predevelopment costs.
"The institutional oppression was very real. We heard no from many banks and investors who called the community 'too risky'. This project was possible because of lenders like Genesis LA and California FreshWorks, who stepped up because they believe in the value of community-driven development," shared Barney.
In 2019, Genesis LA provided a $1.7 million construction loan for the acquisition, restoration, and adaptive repurposing of the city-owned real estate.
"There is not a lot of commercial development in Montebello. We see BLVD MRKT as a grassroots economic development project. It's a unique project for this area, there's nothing else like it," said Anthony Santana, associate at Genesis LA.
Cultivating a Local Food Economy
As a longtime resident of Montebello, Barney knew of property that was owned by the City and had been empty for years. To acquire the property, Gentefy answered a competitive request for proposal released by the City and was awarded use of the property in 2017.
Gentefy is working closely with the City of Montebello, as BLVD MRKT is part of the City's redevelopment efforts for the downtown corridor. Ten emerging local restaurateurs will be housed in the artisan food hall, including six market rate tenants, and four incubator tenants. The businesses range from startups, to food truck operators, and seasoned restaurant owners. All incubator tenants are required to complete a three-month business development curriculum that offers training and capacity building on the technical aspects of establishing and running a successful business. Gentefy's goal for the curriculum is to support the development of businesses owned by people of color by closing the knowledge and resource gap. The vision is that these businesses will eventually transition into a brick and mortar storefront and establish themselves throughout Montebello.
"Gentefy is focusing on the food industry because food brings people together and is a way to foster ownership, employment, and cultivate a thriving local economy," explained Barney.
Gentefy envisions BLVD MRKT as a model for how a developer can address systemic issues of disinvestment, displacement, and healthy food access. For example, they developed a rubric that includes Food Justice, Culinary Innovation, and Sustainability as priorities to be met by BLVD MRKT's vendors. Each priority includes three tiers that support vendors in developing equitable and sustainable business models that include policies for local sourcing and sustainable operations. Policies were also developed for healthy food options, which are based on nutritional guidelines from the American Heart Association and American Diabetes Association. Each vendor is required to offer a daily healthy food option, and will receive training that includes recipe modification, portion control, and pricing and promotional strategies to help increase sales of healthy food items.
"BLVD MRKT is taking a unique approach to increasing healthy food access while cultivating a just and sustainable food system through business development," said Esperanza Pallana, Community Vision's Director of Strategic Initiatives "This kind of collaborative project is critical in our communities."
Additionally, alongside the development of the food hall Gentefy has also maintained regular communication with nearby businesses, including providing technical assistance for their operations. He believes that this is part of being a good steward of the community, where developers build relationships with surrounding businesses to calm fears around change and to keep people informed about what is happening in their neighborhood.
Food Businesses are Essential
With many aspects of life on pause or slowed down because of COVID-19, construction of BLV MRKT is continuing as they are deemed an essential business. Workers are taking all the necessary precautions during construction, and the food hall is planning a phased opening that is expected to launch this fall.
While construction is moving forward, BLVD MRKT's vendors are working through the impacts of the pandemic. Some vendors have lost contracts, resulting in loss of capital and subsequently having to back out of the food hall. Genetfy is providing a range of services to support the project's vendors, including walking through the Paycheck Protection Program and other small business loans and financial remodeling. They also started a partnership with Angry Horse Brewing to host pop-ups where Cafe Santo and Los Taquero Mucho, BLVD MRKT vendors, are selling their food via curbside pickups and delivery. The pop-ups are being received well by the community, and are also helping to promote a walkable downtown.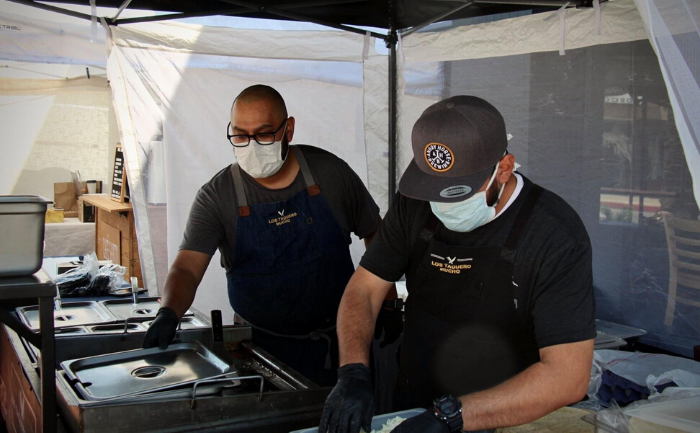 Gentefy is confident that BLVD MRKT's business model as a food hall will enable them to maneuver whatever conditions arise as we move through the pandemic and into recovery and repair. This community development project is rooted in the local culture and values, serving not just great food, but also as an asset for local resiliency.
About Gentefy
Gentefy's philosophy on development is grounded in the notion that investing in space and place must deeply engage the community to help ensure that revitalization projects reflect and preserve the local culture and values with a sense of integrity. Gentefy engages with stakeholders at every level and at every step of the process in order to truly hear the solutions a community holds within them, and to understand how to actualize those solutions.