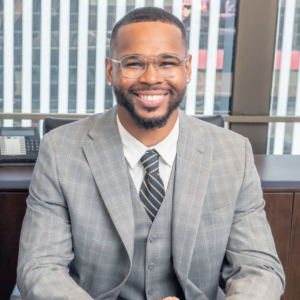 Terrance J. Dennis
Terrance Dennis is Community Vision's inaugural Compliance Manager. He brings over eight years of experience providing his corporate and regulatory compliance expertise to the executive leadership of for-profit and non-profit healthcare organizations across the U.S that receive federal, insurance, or private funding. Mr. Dennis will obtain his Juris Doctorate from San Joaquin College of Law in the Spring of 2023 and holds his Master's in Forensic Psychology and a Bachelor's in Criminology from California State University of Fresno.
Prior to joining Community Vision, Mr. Dennis spearheaded strategic initiatives to align corporate systems, internal processes, and controls with third-party regulatory obligations, specializing in conducting audits for forensic investigative purposes and minimizing the risk of litigation. Mr. Dennis has conducted organizational assessments, policy & procedure review and creation, and implemented key performance indicators to set corporate standards and process improvement systems for cross-functional teams and internal and external stakeholders.
Through creating streamlined workflow charts and business processes, Mr. Dennis aided organizations from start-ups, turnarounds, accelerated growth, realignment, and sustainability phases to ensure optimal functionality through eliminating corporate waste, performance improvement, quality assurance, quality improvement measures, and risk management, ultimately positively affecting an organization's bottom line. Additionally, Mr. Dennis has aided organizations in due diligence, securing commercial real estate and private investor funding. Terrance served as a Division One student-athlete for the Fresno State Football team and enjoys spending time with family, going to the beach, and hiking!