July 27, 2020
California's food industry is a multi-billion dollar industry that consists of many different types of businesses and organizations that grow, process, and distribute food across the state, country, and around the world. Ownership across the food system has seen decades of corporate consolidation, resulting in negative social and economic impacts. From seeds to land ownership to retail distribution, profit is the driver of our conventional food system rather than nourishing our communities. It is well documented that people most burdened by chronic health issues and lack of access to nutritious food are people of color, women, children, low-income individuals, and food system workers; not surprisingly, the same people who are being most impacted by the pandemic.
With Shelter in Place orders in effect for months now, essential businesses, such as food related businesses, have been under tremendous pressure to meet a new demand with significantly different operating models. Now more than ever, Community Vision and California FreshWorks support an ecosystem of businesses and nonprofits that are creating a more equitable and sustainable food system. We support the leaders whose work is focused on more than making a profit — these are the people who are deeply attuned to their community's needs, and are feeding their communities, creating quality and dignified jobs, fostering learning and leadership, building local wealth, and tending the land with care and respect.
The community partners highlighted below are a few among many organizations and businesses that have the relationships and infrastructure within their communities to pivot and restructure themselves to meet current and future food access needs; particularly for communities made vulnerable by systemic injustices. While the pandemic initially hindered operations, our partners have shifted their business models, some even forming partnerships with one another, to help ensure Californians have access to nutritious foods.
The Town Kitchen – Oakland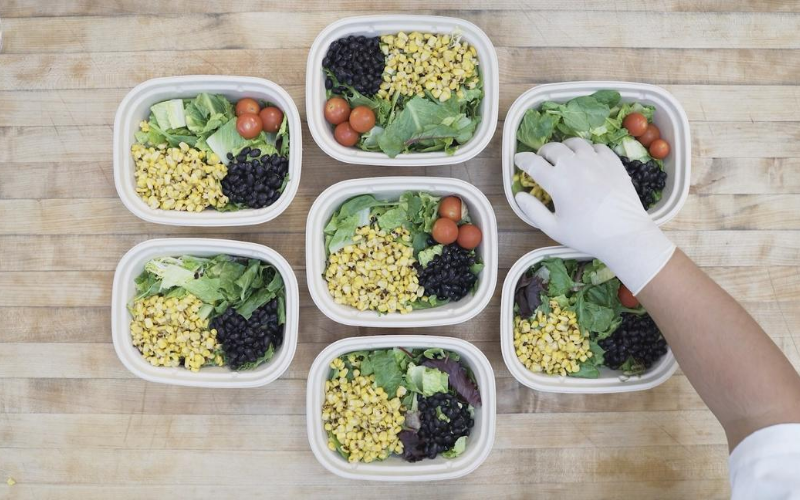 The Town Kitchen, an Oakland-based social enterprise, offers locally sourced foods, while providing job training and professional opportunities to youth coming out of the foster care and/or the juvenile justice system. Young people face many concerns as they reenter the community, home, school, and/or work force. They may return to unstable home settings, struggle to remain in school, and lack the skills needed for employment to be successfully independent. Last summer, Community Vision provided a business loan to help finance staff positions, purchase delivery vehicles, and make facility improvements to their leased space.
As a result of the pandemic, The Town Kitchen lost their corporate clients, and within six days went from having their best month for revenue to facing major losses. These changes prompted fast and strategic thinking on a modified business model. A week after the Bay Area's shelter-in-place mandate, The Town Kitchen launched Town Kitchen Provisions, a home delivery service for food and household essentials. Provisions offers a rotating menu of sustainably packaged, ready-to-eat meals.
Through Provisions, The Town Kitchen continues to work toward a more sustainable and just food system, emphasizing the local ecosystem. Food and other products are primarily sourced from local women and people of color-owned businesses. Additionally, Provisions keeps young folks employed; every $100 purchase creates three hours of employment and apprenticeship experience for youth living in the East Bay.
To order groceries, meals, or household supplies visit: www.ttkprovisions.com/
Community Foods Market – West Oakland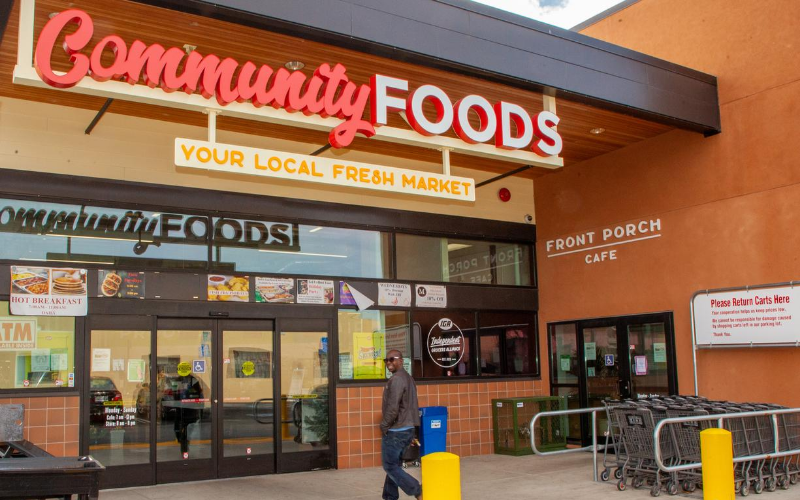 Community Foods Market is an independent, locally-owned and mission-driven market specializing in fresh produce, perishable foods, staple groceries and prepared foods at affordable prices. The market opened a year ago in a West Oakland neighborhood designated a "food desert" where a third of its residents are living below the Federal Poverty Level. The neighborhood has been without a full-service grocery store for more than thirty years. FreshWorks and Community Vision invested in Community Foods through grants, loans, credit enhancements, and the company's Direct Public Offering campaign. We understood the potential for good that a locally owned market, focused on providing affordable fresh and nutritious foods, engaging educational programs, promoting healthy eating, and creating new jobs in a community-focused setting could have in the neighborhood.
Community Foods prioritizes community input and feedback on how the market operates, and continues to take the community voice to heart as we all collectively move through the impacts of COVID-19. In April, the market launched a curbside pick-up service, allowing customers to pick up online and phone orders without having to go into the store. Community Foods also upgraded its point-of-sale system so that customers using EBT cards could also shop online and use curbside pickup — the first store in the Bay Area to offer this service for EBT cards.
With funding received through the Fresh Life Foundation, the market increased discounts from 10% off on Wednesdays to 50% off every day for EBT card holders. Community Foods also offers free delivery for all seniors, aged 65 and up, located in Oakland's McClymonds, Clawson, and Hoover-Foster neighborhoods, and works with local community partners to reach out to eligible residents.
To order groceries or learn more visit: www.communityfoodsmarket.com.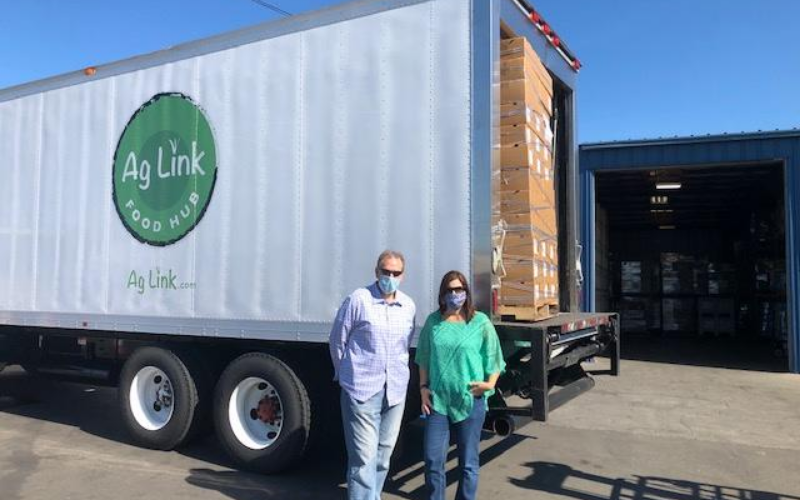 Ag Link is a food hub and aggregator located in Merced County that connects local farmers and producers to institutional buyers. In 2016, Community Vision provided the family-run business with two loans for the acquisition and construction of a warehouse, cold storage facility, and expansion of their delivery truck fleet. Ag Link distributes fresh, local produce to schools throughout the Central Valley to ensure children have access to nutritious foods. A large portion of California's rural poor live in the Central Valley, and despite the abundance of food that is grown in the region we also see the highest rates of food insecurity in these communities; particularly in farm worker communities.
In mid-March, a week before California's shelter-in-place order went into effect, more than half of the school districts that Ag Link services canceled orders scheduled for delivery the following Monday morning, and the remaining districts did the same soon after. While Ag Link works with other institutional buyers, school districts are their main purchaser of produce, and the school closures reduced their distributions to less than 50% of normal volume for this time of year.
In May, Ag Link received a grant from the USDA Farmers to Families Food Box Program, as part of the federal government's efforts to ensure farmers have distribution outlets for their produce. The funds allow Ag Link to partner with local food manufacturers in the Central Valley to provide nearly 4,000 food boxes per day to low-income families. The boxes are distributed through nonprofit partners and include a variety of sliced and whole vegetables and fruit, as well as cooked chicken from The Tri-Tipery. Ag Link is also working with the Emergency Food Bank of Stockton/San Joaquin County to increase the amount of produce they are able to distribute to the community. The USDA funding enables Ag Link to continue connecting California farmers with consumers, helping to support the viability of their farm partners and ensuring that Central Valley families have access to quality foods.
For more information visit: www.facebook.com/aglinkconnect
Dig Deep Farms – San Leandro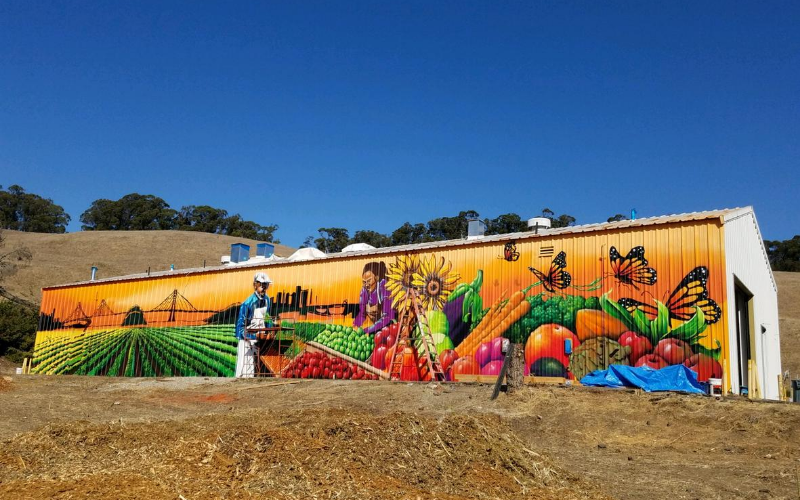 In January 2020, the Deputy Sheriff's Activities League (DSAL) celebrated the grand opening of their Dig Deep Farms Food Hub, a facility nearly 10 years in the making, in partnership with the Alameda County Sheriff's Office. In 2019, Community Vision provided a loan, supported by a FreshWorks' credit enhancement, to complete renovations of the Food Hub. The Hub is a connector that strengthens the local food economy and includes a commercial kitchen, space for storing produce from their three farm sites, and cold storage space. Along with the opening of the Food Hub, Dig Deep Farms also started a pilot food recovery operation where they pick up surplus food from farmers' markets and schools, and then deliver to affordable housing communities throughout the county.
In response to the pandemic, Dig Deep Farms is providing critical support throughout unincorporated Alameda County, which include some of the county's highest rates of poverty and food insecurity. Each week, hundreds of families come to the Food Hub to pick up produce, recovered food, and donations from the Alameda County Community Food Bank. The organization also secured philanthropic dollars for local businesses to create and deliver prepared meals to families throughout the area. Businesses that do not have access to their own kitchen are using the Food Hub's commercial kitchen, including some vendors from the Ashland Market & Cafe, who prepare free meals that are distributed with the support of community-based organizations.
To source and distribute more fresh produce and prepared meals Dig Deep Farms is in partnership with East Bay Paratransit to expand the pick-up and delivery routes. Additionally, as many of DSAL's recreational programs have shifted online, the recreation and fitness staff have shifted their responsibilities to also support Dig Deep's food access initiatives.
For more information visit: www.acdsal.org/food-hub
Something Better Foods – Oakland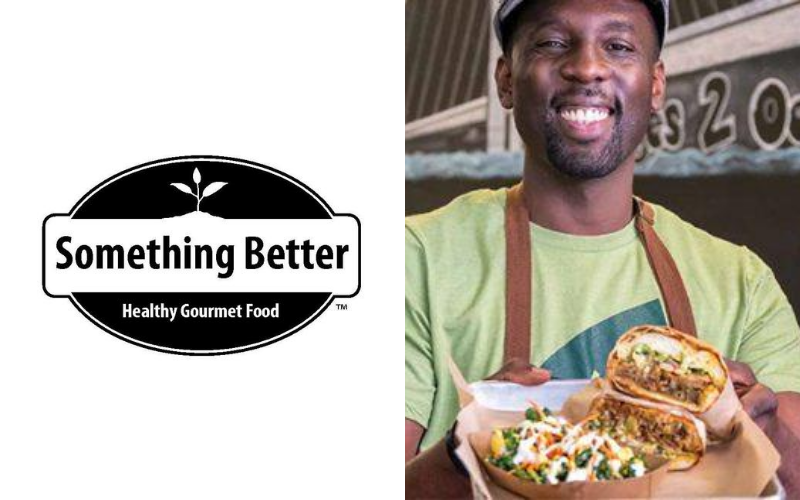 Chef GW Chew founded Something Better Foods in 2017 with a mission to democratize access to healthy foods. The company manufactures and distributes the plant-based food product line, known as Better Chew, created by Chef Chew after years of experimentation. He envisions Something Better Foods as part of the solution to ending chronic ailments, such as diabetes, obesity, and cardiovascular diseases in the Black community and communities characterized as 'food deserts.' In 2019, Something Better Foods was awarded a FreshWorks Technical Assistance Grant to build out a technology platform to manage the supply chain of their manufactured products. This grant enabled the company to implement a direct to consumer model that guarantees the most affordable price for high quality food. This level of ownership means that Something Better Foods can build local wealth in the community because they hire locally, treat their workers with dignity, and pay a living wage.
The company was planning to expand Better Chew foods products nationwide, but shipping processes became too inhibiting due to the pandemic. They decided to bring the food directly to the people, starting with Chef Chew's hometown, Washington D.C. In June, Something Better Foods started a Pop-Up Vegan Tour, where people pre-order ready to go meals online and then pick them up at a location in their neighborhood. Better Foods is partnering with local organizations to bring the Pop-Up to neighborhoods in Washington D.C., Maryland, and Virginia.
Chef Chew is also the general manager of The Veg Hub, an Oakland-based nonprofit restaurant located near the corner of Macarthur and Fruitvale, that employs young people of color. The Northern California Conference of Seventh-day Adventists sponsors the restaurant because of its commitment to social good by offering educational programs on the benefits of a plant-based diet and its ability to be a center of influence in the community. In response to the impacts of the pandemic, they created the Food for the Town program. In East Oakland there have been high rates of job loss due to the pandemic, which increases people's risk of food insecurity and hunger. Food for the Town partners with neighborhood churches of different denominations in East Oakland and East Palo Alto to distribute free groceries to local residents in need.
Something Better Foods' existing supply chain has been a critical asset that has facilitated quick sourcing and distributing of food to families who most need it during this time. Investing in local businesses owned by people from and in the community, who have the community's health and power as a driver in addition to profit, is not risky. These are the businesses that nourish people and are taking care of communities in some of the most stressful and uncertain times.
To learn more visit: betterchewpopup.com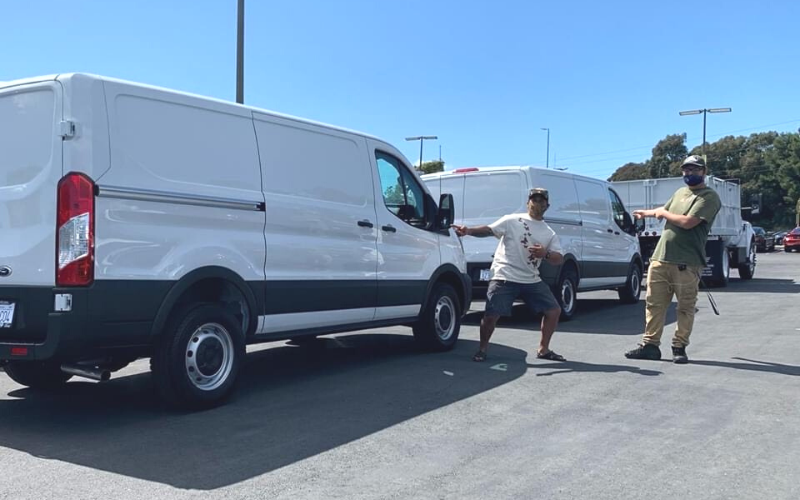 Urban Tilth has more than 15 years of experience in training youth in urban agriculture and distributing locally-grown produce to community members of the North Richmond and the Iron Triangle area. They operate seven farms that grow organic produce for a free farm stand and a low-cost CSA for residents in West Contra Costa County. Urban Tilth's deep connections in the community and years of growing and distributing nutritious food meant that they were a go-to source for fresh food when the shelter-in-place ordinance took effect. Referrals from elected officials, nonprofit organizations, and county social service programs grew Urban Tilth's CSA waitlist to nearly 200 families.
The increased demand for Urban Tilth's produce resulted in doubling the size of their CSA program. They are connecting with local farmers, many of who have surplus produce due to the closure of businesses across the state, to supply the increased demand. Community Vision blended its financial tools, including a loan and FreshWorks grant, to support Urban Tilth in accessing the capital for a CSA system upgrade and expansion.
This capital enabled the purchase of two new vans that will quadruple the number of deliveries of fresh produce. The nonprofit was also recently awarded a USDA Farmers to Families Food Box grant that funds the distribution of free CSA boxes to local food banks, community organizations, and faith-based groups. Urban Tilth is also working with the County's health department to ensure food handling and safety guidelines are put in place, along with purchasing the proper equipment for food packaging and distribution. Additionally, with donor support, a sick leave fund was established for the organization's staff, and those who are most vulnerable to the virus are provided the option for paid medical leave.
To order a CSA box and to learn more visit: www.facebook.com/urban.tilth
Yolo Food Bank – Sacramento Valley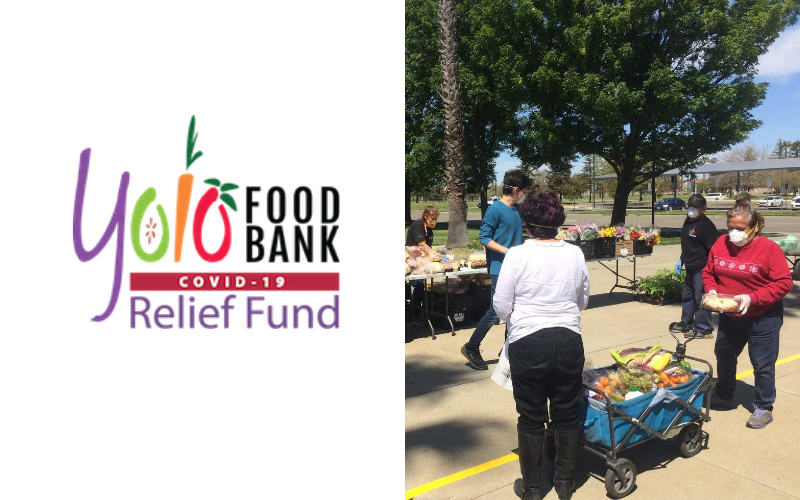 Via a robust direct distribution network, along with more than 80 nonprofit partner organizations, Yolo Food Bank distributes more than six million pounds of food each year to the communities of Sacramento Valley's Yolo County. In March 2019, the food bank opened a new 42,000 square-foot food recovery warehouse and operations facility that enabled them to more than double their distribution of fresh fruits and vegetables. Community Vision provided financing through a facilities loan and New Markets Tax Credits for the warehouse. This infrastructure is supporting Yolo Food Bank's ability to respond to the increased need for support since the onset of the State's shelter in place order.
As a result of the pandemic, Yolo Food Bank is experiencing a nearly 60% increase in demand for their services. At the same time, food donations from retailers, wholesalers, and distributors have decreased, as many consumers are stocking up their home pantries and purchasing from stores at large quantities. To meet the growing need, they're making bulk purchases of food and essential goods from a range of regional suppliers, including urban farmers, such as FreshWorks grantee 3 Sisters Gardens in West Sacramento. In Spring 2020, Community Vision provided the food bank with a COVID-19 response loan to support these bulk purchases.
In addition to procuring more food, the organization launched a weekly emergency food home delivery program to nourish low-income senior citizens and health-compromised residents. These deliveries ensure that more than 6,500 Yolo County residents have a reliable source of nutritious food as they isolate from the virus. Additional food distribution locations have been added to the food bank's existing operations, as well as a program focused on serving at-risk homeless residents temporarily sheltered in motel rooms at the order of the County.
To learn more visit: www.yolofoodbank.org
Mandela Partners – West Oakland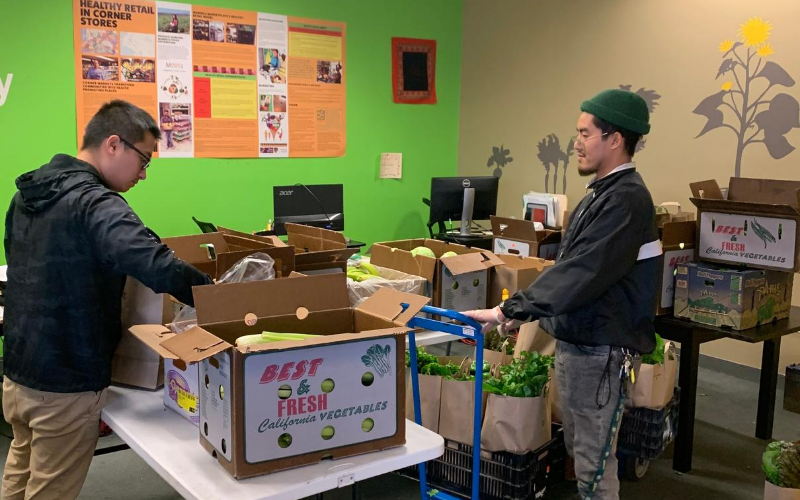 For more than 15 years, Mandela Partners has improved health and created wealth by partnering with local residents, community businesses, and family farmers to build assets through local food enterprises. They do this work through entrepreneurship training, micro-lending, and advising for visionary entrepreneurs who otherwise may not have access to such resources. They also manage the Ashland Market & Cafe and the Oak Harvest Kitchen, a restaurant and kitchen incubator in downtown Oakland that houses their Re-Generate Opportunity Program for reentry residents of Alameda County who receive training in food services and catering. As a long time partner, Community Vision and FreshWorks have provided the nonprofit with multiple grants over the years, including one to support their COVID-19 response work.
Due to local COVID-19 health directives, Mandela Partners decided to temporarily close the incubator and training program. In response to these closures, they launched an Emergency Relief Fund to increase resources in order to help mitigate monetary losses for employees, trainees, food producers, and food entrepreneurs. The organization is also purchasing produce from their network of family farmers, and distributing free produce bags, CSA-style boxes, and meal kits in partnership with local community food distribution sites. Produce-centered meal kits are packaged by Oak Harvest Kitchen staff, specifically to feed food insecure seniors and families. In addition to selling items from their menu for take out, vendors at Ashland Market & Cafe prepare and distribute ready-made hot meals for residents in need in partnership with community partners.
In response to COVID-19, Mandela Partners has distributed more than 20,000 pounds of produce, and provided free produce and meal kits to more than 5,000 under-resourced families. In the weeks and months ahead, the organization hopes to expand its produce and meal distribution service with additional community partners.
At the same time, Mandela Partners recognizes the challenges many businesses of color face as a result of the pandemic. To support under-resourced entrepreneurs, the organization offers individualized technical assistance tailored to emerging business needs, and financial support. This includes advising on personal and business finances, refining financial projections, vetting and connecting with new sources of capital, supporting loan application processes, and exploring new marketing strategies to relaunch businesses once COVID-19 health and safety directives are lifted.
To learn more visit: www.mandelapartners.org
Putting Community Front & Center
It is critically important to share the stories of how our community partners are responding in the challenging and uncertain times we are living in. They show us what it looks like to lead a successful business and organization with community front and center. Our support to them extends well beyond financial capital and is, very importantly, an intentional implementation of our social and navigational capital on their behalf. Our community of organizations and business leaders exemplify the hope, perseverance, and action that is resilience and their successes are a statement of community wealth. They are needed more than ever in a time of pandemic and great social change.
These brief stories are a small glimpse into the communities we are fortunate to support, and just a part of the work happening every day across California. Please visit the links provided in the article to learn more about and support each business.