May 15, 2019
Compass Family Services (Compass) is a San Francisco-based nonprofit with more than 100 years of experience serving the city's diverse communities. The organization was founded in 1914 as Travelers' Aid San Francisco to assist newcomers; particularly young women visiting the city for the 1915 World's Fair. As global and local sociopolitical factors influenced the demographics of San Francisco throughout the decades, Compass has remained responsive to the needs of immigrants, war refugees, as well as teens and young adults. Since the mid-1990s, Compass' services have focused exclusively on San Francisco families facing homelessness, with an array of interconnected services assisting these to achieve housing stability, economic self-sufficiency, and well-being.
Even a well-established nonprofit organization like Compass is not immune to the affliction of displacement. Compass leased two different spaces for their administrative office and direct services; both located near Powell and Market Streets, and both leases were headed toward expiration. As Erica Kisch, Compass Family Services' executive director reflects, "We anticipated that the rents would probably triple if the landlords were willing to renew our leases and that was a really big if. One of the buildings we were in had gone from being almost vacant, to fifteen of the eighteen floors being rented for co-working space." Located a previously undesirable area that had become some of San Francisco's most in demand real estate, Compass felt the pressure of looming displacement while needing to remain centrally located in San Francisco to serve their clients.
This situation is hardly unique to Compass. In 2016, the Northern California Grantmakers released a report on nonprofit affordability in the Bay Area. Unsurprisingly, the report found steady increases in commercial real estate have pushed Bay Area office prices up to 122% of what they were in 2011. The report details that two-thirds of surveyed nonprofits will have to make a decision about moving in the next five years. Furthermore, 82% of those surveyed said that they are concerned about how the real estate market will impact their future programming.
As a nonprofit serving San Francisco families, Compass knew that moving out of the city was not an option.  In 2016, Compass worked with Community Vision's real estate consulting team on a lease vs. buy analysis.  This exercise helped the organization better understand their financial readiness, organizational capacity, and potential financing options as they considered the feasibility of purchasing a building.
Confronted with inevitably soaring rent, Compass made the decision to move forward with buying their own space. The organization created a board-level real estate committee, enrolled a realtor with whom they had previously worked, and began to look at commercial real estate. In collaboration with a team of lenders, Compass secured the financing needed to acquire and renovate an 18,000-square-foot building in the heart of the city's Mid-Market neighborhood. A portion of the financing also included a $1 million grant from the Nonprofit Space Investment Fund, a program of the Nonprofit Sustainability Initiative, which is funded by the City of San Francisco's Office of Economic and Workforce Development. Community Vision's consulting team administers this initiative, which supports nonprofits in becoming owners of their facilities in order to expand the total amount of nonprofit-owned commercial space in San Francisco.
On September 20, 2018, Compass opened the doors to their new Compass Family Services Hub located at 37 Grove Street. The space offers a warm, welcoming and supportive environment for families and an inspiring workplace for staff. Compass relocated three of their direct service programs; Compass Connecting Point, Compass SF HOME, and Compass Clinical Services, as well as their administrative offices to the Grove Street Service Hub, so now all are under one roof.  The new Service Hub is closer to all of Compass' other program locations, maybe service utilization easier for client families, and is easily accessible by public transportation. The physical and aesthetic design aspects of the building were thoughtfully developed to create a safe and welcoming environment. The new space has also helped enhance communication and team cohesiveness among the staff.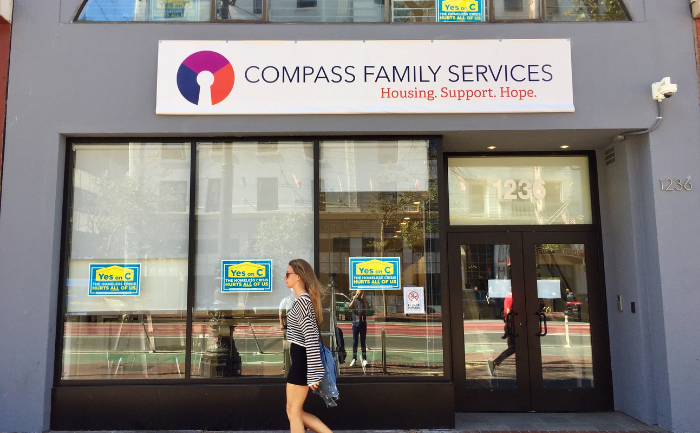 With their move complete, Compass is engaged in a 3-year, $30 million capital campaign: Housing. Support. Hope: The Campaign for the San Francisco Family. The campaign will raise funds to help pay down the loans for the new space, as well as provide general operating support to sustain their programs over the next three years.
"Funding from the Nonprofit Space Investment Fund provides critical support to organizations like Compass Family Services who are acquiring a site for a permanent home," expresses Karen Sullivan, Managing Real Estate Consultant at Community Vision. "San Francisco real estate is expensive and the NSIF grants can fill funding gaps and make an acquisition feasible."
Compass' purchase of their facility exemplifies what the Nonprofit Sustainability Initiative aims to achieve: for nonprofit organizations to stabilize so that they can continue to provide programs and support for the people of San Francisco. The Compass story demonstrates the importance of public/private partnerships in developing permanent community assets. As Kisch expresses, "Knowing that our future is secure, that we can focus exclusively on our client families and the work at hand, is a great peace of mind, and allows us to put our priorities where they need to be, on solving family homelessness."