Webinar: Financial Management 201 - Budgeting & Pivoting for Mid-Term Planning
wed09dec10:00 amwed11:30 amWebinar: Financial Management 201 - Budgeting & Pivoting for Mid-Term Planning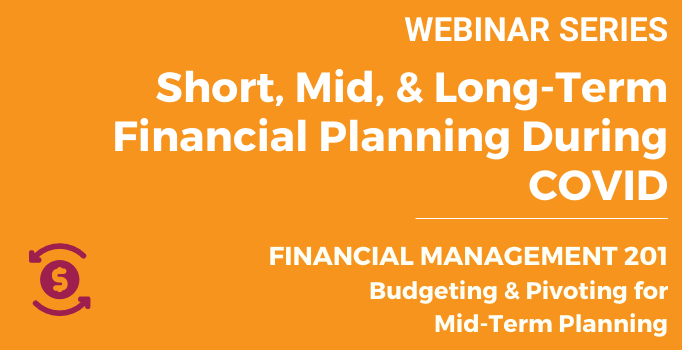 Event Details

2020 has been a year of large shifts and challenges, yet the foundations of nonprofit financial management remain the same and can provide organizations a way to focus intentions, resources, and goals through crisis and recovery efforts.

Join Community Vision for this free three-part series where you will learn new tools for navigating complex financial challenges in this changing climate. This series is great for Executive Directors, board members, and finance staff who have gained new financial management responsibilities, as well as seasoned finance staff who are interested in thought partnership around managing the short-term cash needs of their organizations. Participants will leave with new tools to guide them in their daily decision-making.

Financial Management 201: Budgeting & Pivoting for Mid-Term Planning

In this webinar, we will expand upon the budgeting and planning concepts discussed in Financial Management 101.

You will learn about:
Best practices for leveraging the budgeting process for additional insights, including implementing a quarterly budget with pre-determined pivot points;
Part two of the Financial Decision-Making Roadmap tool. Participants move from the cash and liquidity indicators into mid-term planning tools to help chart a path forward through the next fiscal year of unknowns; and
The Revenue Risk Calculator and the Scenario Planner, and how attendees can use these tools in their own organizations.
Presenters:
Risa Blumlein Keeper, Managing Consultant, Grantmaking & Financial Management, Community Vision
Naima McQueen, Executive Director, Alliance for Community Development
While attending Financial Management 101 is not a prerequisite, it is recommended.  Visit communityvisionca.org/events to register for all webinars in this series. If you have questions, contact Sarah Schwid at sschwid@communityvisionca.org or 415.392.8215 x369.
more
Time

(Wednesday) 10:00 am - 11:30 am