July 18, 2019
The deterioration of public infrastructure in the United States, particularly our transportation systems, tends to receive headline news only when an environmental disaster affects a region. During an emergency, public transportation systems can provide vital services including evacuations, transporting emergency response professionals, and maintaining mobility during and after an extreme weather event. This is one major reason why it is necessary to maintain public infrastructure- so that communities are resilient in response to environmental threats. Scientists predict that across the United States extreme weather events such as floods, wildfires, and drought will become more intense and frequent. These weather patterns hold major implications for the design and function of community development efforts; prompting the question, how can public infrastructure be designed to serve the community during a disaster, especially people with limited mobility?
The Butte County Association of Governments (BCAG) spent the last several years on a $38MM expansion project for the Butte Regional Transit Operations Center (BRTOC), which includes a regional bus line, paratransit services, nonprofit office, and community meeting spaces. Community Vision supported this project with two rounds of New Markets Tax Credits (NMTC)-one in 2016 for $15.5MM to expand the center from 2.7 acres to ten acres and a second in 2018 for $6MM to construct a solar array and an 8,000-square-foot Community Resource Center, which is now home to several local nonprofits. The NMTC was a critical source of capital for expanding the transit center as Butte County likely would not have the community support for a public bond nor the additional resources to completely fund such a large scale investment in its regional infrastructure. While the purpose of expanding the transit center was to support the growing transportation needs of the county, it has also proved to be an invaluable asset in response to the county's recent environmental disasters.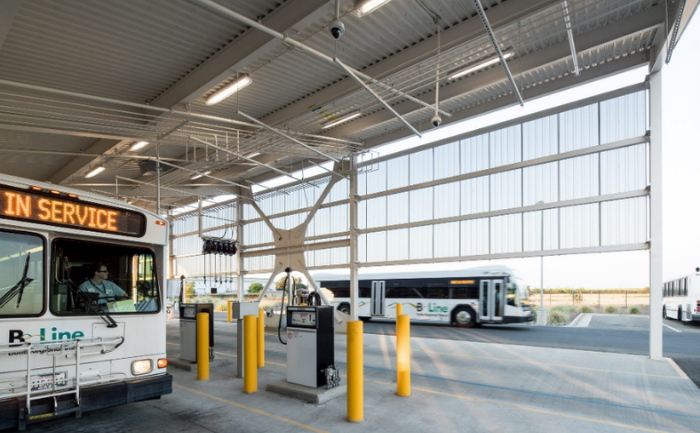 From the Oroville Dam crisis in 2017 to the Camp Fire in 2018, Butte County is increasingly impacted by environmental disasters. Such disasters are intensified by extreme weather conditions brought on by climate disruption. When the Oroville Dam emergency spillway was damaged in 2017, nearly 200,000 people received immediate evacuation orders. The transit center's formal partnerships with local nonprofits meant that paratransit drivers already knew where elderly residents who needed evacuation services lived and they were able to conduct targeted evacuations for people with mobility needs. Last November, the Camp Fire burned more than 153,000 acres in the span of 17 days and became the deadliest and most destructive wildfire in California's history. Again, the transit system played a major role in the evacuation efforts. That December, the B-Line regional transit service provided free rides to all Butte County residents to help ensure continued mobility, decongest the roadways, and to decrease air pollution by keeping cars off the roads. B-Line buses also transported forensic crews to conduct their investigations, and services were established between temporary shelters and FEMA sites so that residents could access the support they needed.
"On the surface, this project appeared to be only a transit facility, but Community Vision took the time to understand the economic and social impacts this project would deliver to the area."

– Brian Figenshow, NMTC Developer at Foundation Management Solutions
BRTOC raises the level of understanding around how NMTCs can be a strategic investment approach for infrastructure projects that bring together diverse stakeholders and that cultivate regional resilience. Such intentional collaboration, known as 'social cohesion', achieves higher levels of cooperation and a better standard of living that is inclusive to all people. This approach to planning incorporates an understanding of the socio-economic and socio-political dynamics that shape a region, which are indicators of how well a community will respond to and recover from an emergency.
Several years prior to the transit center expansion, various stakeholders were consulted to better understand how the county could improve public transportation services. BCAG learned that 80% of people served by nonprofit and service organizations in the region require transportation assistance on a daily basis to access health care, food, education, and other services. Additionally, 35% of BCAG's transportation resources were supporting paratransit services, which were relied upon by elderly and disabled patrons of regional nonprofit organizations.  This demonstrated need for enhanced public transportation services in the region helped to bring in NMTC financing.
The Camp Fire and Oroville Dam disasters emphasize that climate disruption is not a back burner issue for Butte County. BCAG is seriously examining how the transit center can assist in recovery efforts and in responses to future emergencies.
"Community Vision is supporting a lasting resource for the people in this community that they can rely on to improve the quality of their lives every day."

– Jon Clark, Executive Director, Butte County Association of Governments