July 9, 2019
In urban and rural planning and development, many believe social processes and spatial form to be in direct relationship. Theorists, planners, and developers have argued that changing the spatial form in any region allows for the transformation of social form and structure as well.
At Community Vision, we've spent the last 30 years working to transform space and social structure in tandem. This has involved providing nonprofits and small businesses with the financing needed to acquire physical spaces in historically underinvested communities, as well as the technical assistance necessary to maintain and grow their resources while scaling their impact and vision for these communities. These physical spaces hold the excitement, emotions, everyday work, and decision-making of the organizations that inhabit them; they also shape the physical, economic, social, and political landscapes of the communities they exist within, holding space for, contributing to, and amplifying our ongoing work of supporting communities in achieving a wholly equitable future. Below, you'll find a number of those organizations operating in our founding city of San Francisco.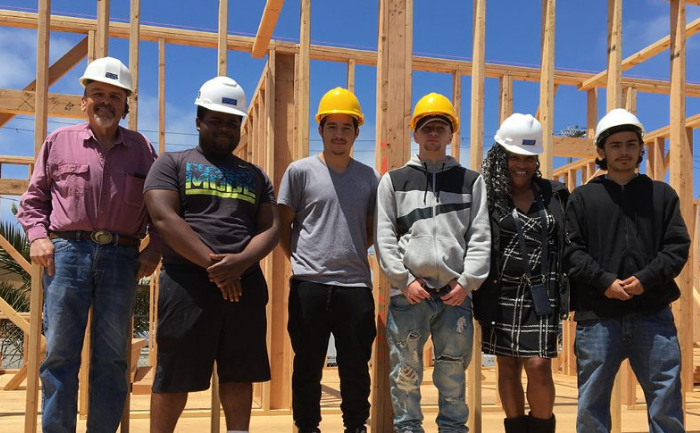 Life Learning Academy (LLA), a San Francisco-based public charter school, builds greater equity in education for young people. Founded in 1998 in an effort to reform San Francisco's Juvenile Justice System, the school utilizes innovative teaching methods and mission-driven programs to target historic gaps in opportunities and better meet the needs of its students. LLA's model focuses on reengaging students by providing a safe, stable place for them to thrive, and paid and unpaid internship opportunities throughout the school year help significantly improve students' post-graduate prospects and success.
Despite LLA's focus on developing a platform for youth empowerment, the school's leadership noticed a subset of its students lacked access to stable housing and the structures necessary to fully take part in the services provided. A majority of LLA students come from low-income communities of color, experience significant trauma and have been involved in, or are at-risk of involvement in, the juvenile justice and child welfare systems. Additionally, approximately 1/3rd of LLA's students are homeless or living in unstable housing conditions. The long-term implications of youth homelessness can be devastating, for the individual and community, eventually exacerbating systems of economic and racial inequity.
In 2016, LLA launched a capital campaign to raise money for construction of an on-site dormitory offering students access to safe, stable, and supportive housing. With support from a number of private foundations, corporations, government, and individual donors, the school successfully raised more than 50% of their funding goal. With Community Vision's support, LLA received the additional financing needed to supplement their capital campaign and complete the construction. In June of 2018, Community Vision provided the organization with a $1.6 million bridge loan, which enabled the school to move forward with the project and meet their construction goals ahead of their August 2019 opening date.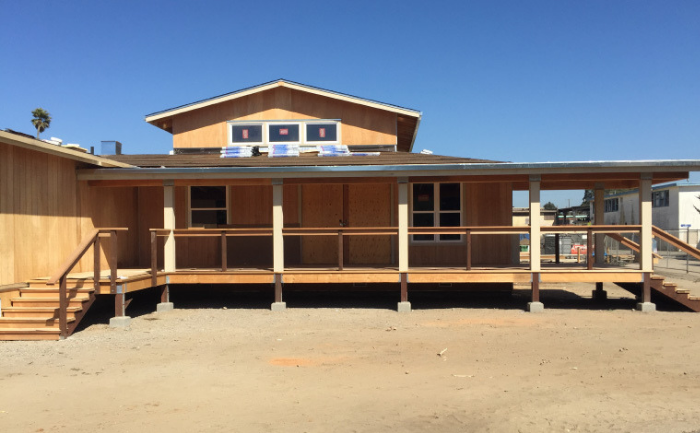 Spatial transformation: LLA now has a 6,400-square-foot building providing housing to approximately 20% of the school's students annually.
Social impact: Not only is LLA able to provide the necessary support to youth whose futures depend on it, but they are also able to provide a sense of home and place in an era of (and region facing) extreme housing insecurity.
"The presence of a dormitory meant that young folks living in unstable housing conditions were given one of the critical resources they needed to thrive—resources too often overlooked and undervalued in other spaces."

– Juan Jaimez, Consulting Program Assistant
MISSION ECONOMIC DEVELOPMENT AGENCY
San Francisco's Mission District is often pointed to as an example of what happens to communities when a neighborhood becomes gentrified: rising rents, displacement of families and businesses, and further widening of the wealth gap among people living in the area.
Rooted in the Mission and focused on San Francisco at large, Mission Economic Development Agency's (MEDA) mission is to strengthen low-and moderate-income Latino families by promoting economic equity and social justice through asset building and community development. MEDA offers services in financial coaching for individuals and businesses, career services, housing assistance to help first-time homebuyers, real estate development, and a microlending program.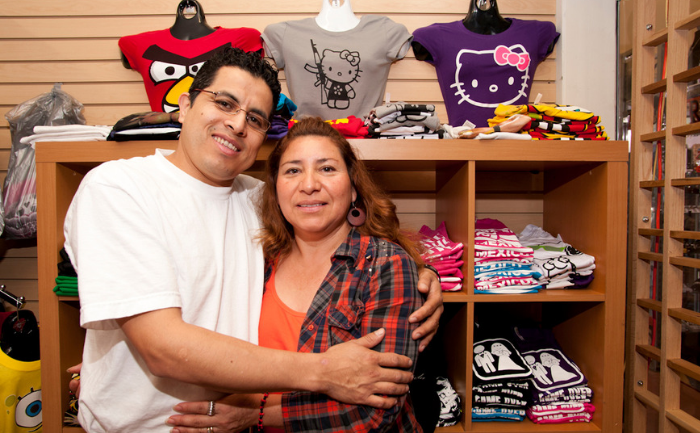 Since 2003, we've worked with MEDA in providing real estate consulting and lending services. Our long-term partnership has enabled us to serve as a financial resource agent in support of MEDA's work to support and build community assets. To date, and in partnership with other lenders, we have provided over $3 million in financing for MEDA to purchase and preserve properties for the greater good of the community.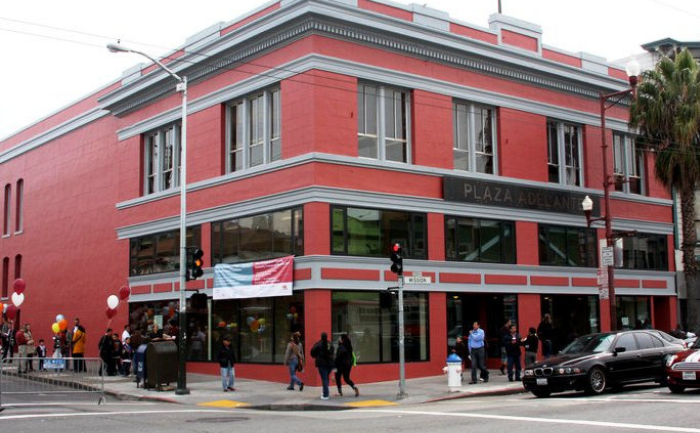 Spatial transformation: MEDA received a $1 million loan from Community Vision to acquire their 21,000-square-foot facility serving as Plaza Adelante, located at 19th and Mission Streets in San Francisco, a center that houses several community-based nonprofits, an in-house café, exhibits of work from local artists, and a market that serves as a business incubator. The nonprofits in Plaza Adelante provide a wide range of services including technical assistance for microenterprises, homeownership counseling and foreclosure intervention, financial education, technology education and training, affordable financial products and services, and tenant counseling.
Social impact: We've provided financing for MEDA to purchase residential buildings through their Small Sites Program, which is critical to keeping people in their homes and keeping housing affordable and out of the speculative market. Plaza Adelante also serves as a co-located community facility for MEDA and other human service and nonprofit organizations enhancing the lives of local working class community. In addition to the convenience and positive synergies for service and program delivery the facility provides, MEDA and other co-owners believe that long-term ownership of the property will allow them to build assets and achieve physical and economic stability in the community they serve.
Compass Family Services (Compass), a nonprofit serving San Francisco communities for more than 100 years, provides services and programs that support families on their paths to securing stable housing, economic self-sufficiency, and personal well-being. Like many other Bay Area nonprofits, high rents were making Compass uncertain about their future ability to continue serving the community. Compass had leases in two different locations that were close to expiring. If there was an opportunity to renew the leases, it was likely that their rent would triple in this hot market.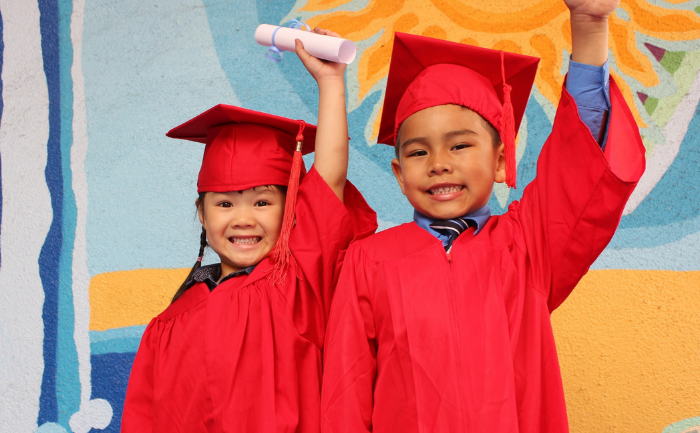 Faced with the possibility of displacement, Compass made the decision to relocate their operations. They created a board-level real estate committee, hired a realtor who they previously worked with, and began to research commercial real estate options. Originally, their plan was to continue to rent; however, the opportunity to access New Markets Tax Credits (NMTC) investments to purchase a building presented itself and the organization was in a position to pursue it.
Community Vision's consulting team supported Compass with space planning, budgeting, and help navigating the NMTC process. Then, when ready, Compass worked with a variety of lenders.
A portion of the financing for this project included a $1 million grant from the Nonprofit Space Investment Fund, a program of the San Francisco Nonprofit Sustainability Initiative, which is funded by the City of San Francisco's Office of Economic and Workforce Development, and administered by Community Vision.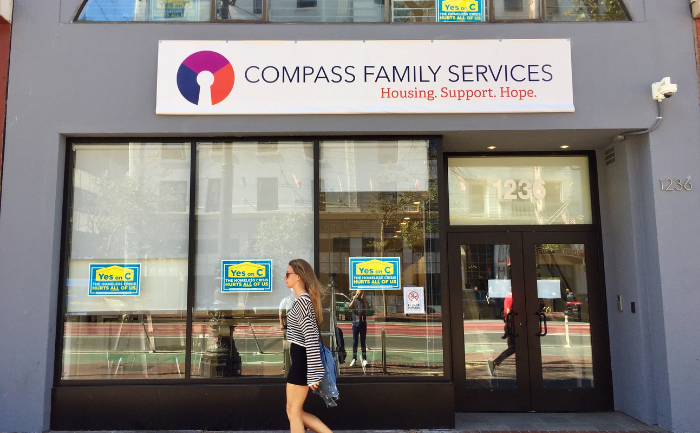 Spatial transformation: Community Vision provided $2.5 million in NMTC leverage loans. This funding was part of a larger fundraising efforts to acquire and renovate an 18,000-square-foot building in the heart of the city's Mid-Market neighborhood.
Social impact: In 2018, Compass opened a new hub, allowing homeless and at-risk families to become stably housed, emotionally and physically healthy, and economically self-sufficient by being able to access interrelated and complementary housing and support services all under one roof.
We are excited to walk tall on the path carved for us by more than three decades of learning, growing, and building with and in California communities. We respect and honor their bold visions for our future.
Our work has shown us that with political and economic uncertainties impacting California, a need remains for our lending and community real estate expertise.
But our clients, partners, and served community have taught us that – with adequate partnership and support – community members best speak to and solve for issues arising as a result of these burdens, especially inequity, displacement, and discriminatory policy.
If you or your organization would like to collaborate with us in creating equity through space, our lending and consulting teams are more than happy to hear from you.
If you'd like to learn more about our efforts in the Bay Area, CLICK HERE to learn more about how we're creating sustainability through space.