August 19, 2019
Many of you have been keeping up with our Embodying Equity blog series. Through it, you've learned (or just been reminded) that since Community Vision's founding in 1987, we've been committed to investing capital in and providing technical assistance to nonprofits and social enterprises that build equity in historically under-resourced neighborhoods.
We've shared how:
Our commitment to equity has meant proactively addressing systemic oppression in order to ensure fairness in access to opportunities, resources, and rights.
Our partnerships in San Francisco, Oakland, and Central Valley help build equity through the creation and preservation of spaces – spaces that contribute to and support financially strong, vibrant community visions.
Our expansion has focused on alleviating systemic inequity while providing support to entrepreneurs and businesses creating thriving communities.
And in the middle of sharing this blog series (and a few other exciting client updates), we revealed something even more exciting: a new look and feel for our organizational branding and a new name!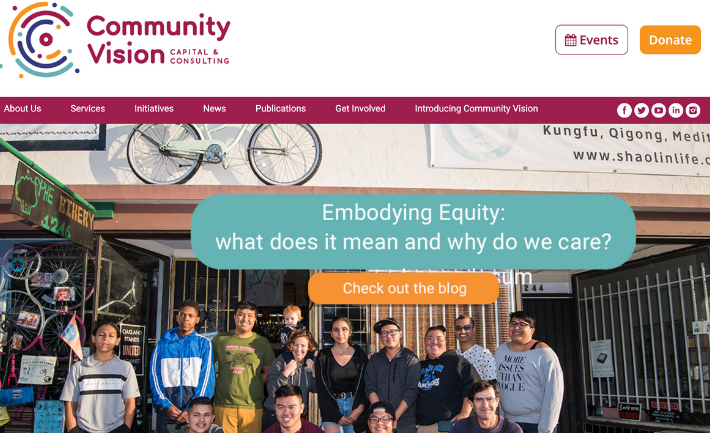 Today, we invite you to continue this exciting journey with our team.
Our upcoming Truth Telling series, in line with our organizational goals of deepened learning and integrity, will highlight individual staff and organizational experiences related to our internal and external equity development processes.
Through the series, we'll identify and discuss past, present, and future strategies for broad-scale change, while also naming and developing personal methods and habits of making our belief in social justice and racial equity tangible, real.
First up in a line of many transparent conversations to come:
Despite much of the positive work being done by CDFIs and their partners, we cannot ignore that our country's financial engagements with historically-marginalized and under-resourced, underinvested communities has at times been passively unfair and imbalanced, and at others, actively predatory.
Today, Community Vision is one small part of a huge ecosystem working to undo and proactively prevent future harms from a number of unjust social and economic practices. Around us, local, national, and international conversations – as well as policy advocacy and engagement – focus on (but are not limited to):
Of course, we're not the first community-serving financial institution to publicly share our internal efforts toward justice. In our current sociopolitical climate, it has become increasingly important for our industry peers to publicly align themselves with the communities they serve.
Organizations like Business Alliance for Local Living Economies (BALLE), Capital Impact Partners, and CompassPoint have made clear – each, in their own way – the importance of a longstanding and simultaneously renewed focus on using capital to o meet the needs of, and build greater equity within, historically marginalized communities.
Direct action has emphasized:
After our own yearlong strategic planning process, one of our biggest takeaways was how important it was for us to be part of the communities we work within.
Our work provides strategic investment and guidance, absolutely. But it also helps individuals and businesses fully realize the powerful visions they've created for themselves, their organizations, and their communities long before making contact with our consultants and loan officers.
Internally, we desired a name that reflected externally, not just where we have been, but where we're going; a name that speaks to the purpose of our internal processes; a name that resists a charity model, and instead reflects partnership and the amplification of the longstanding efforts of our clients and partners.
Community Vision speaks to these powerful dynamics using inclusive and welcoming language. It also holds space for the expansion of our work as we deepen investments in equity and social justice.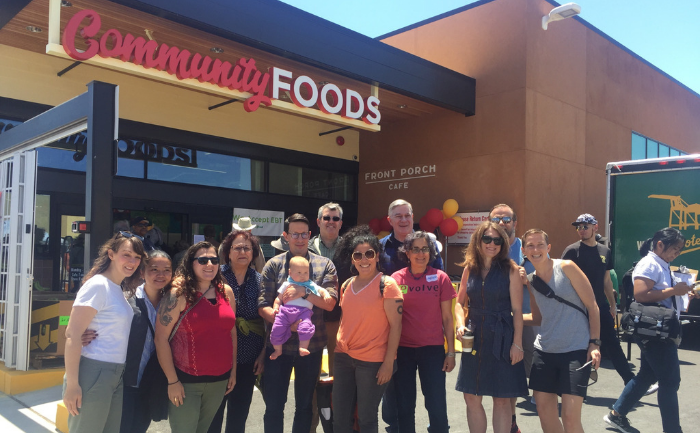 COMMUNITY VISION IS:
Locally Invested. California is our home. We know our communities. We love our communities. And we want to see them thrive. We understand how to navigate through the bureaucracy. We're connected with the folks on the ground who are doing the work, and we use our resources to support and further those efforts as much as possible.
Collaborative Partners. We understand that no one knows a community's challenges better than members of that specific community. We believe that client input is integral to all solutions. Working together, we listen to our client's concerns and apply our experience and wisdom to tackle the financial challenges they face. Our clients are our partners throughout the entire process.
Responsive. We acknowledge the rapid, and often detrimental, changes happening in our communities. Instead of simply reacting to tragedy, we identify imminent problems and strategize methods for minimizing threat, all the while working to strengthen collective community-based solutions.
COMMUNITY VISION STAFF EXIST AS:
Community allies. We are responsive to community needs and invested in the success of our neighbors.
Financial resource agents. We share a wealth of financial knowledge and expertise, and seek to expand access to resources for those who need it the most.
Social justice catalysts. We're committed to supporting the removal of barriers that stifle the development of historically marginalized communities. We want to build and contribute to equitable, self-sustaining communities that thrive. For us, social justice is tied to space and capital. Therefore, we strive to aid our community in acquiring and maintaining both.
COMMUNITY VISION BELIEVES:
Our communities desire prosperity, stability and a trusted partner supporting them on a path towards equitable financial opportunity. We maintain a commitment to redistributing resources and collaborating with communities with low financial wealth, to grow their seeds of self-determination.
We realize that the impact of discriminatory policy, institutionalized financial neglect, and systemic racism have resulted in a deep sense of distrust felt among communities on the margins of opportunity, including people of color, those of various abilities, genders and sexualities, and communities with low financial wealth. Because of this distrust, many are unaware of the multitude of resources that exist to help them succeed. In addition, compounded harm caused by rising rents, displacement, and limited access to real-estate knowledge has made it even more challenging for nonprofits, small businesses and social enterprises to focus on more than their immediate survival, let alone their growth and long-term financial well-being.
Our organization provides an option for all to join in our shared vision, goals, and beliefs through socially responsible investment.
Our revolving loan fund allows you to directly contribute resources to diverse nonprofit organizations, cooperatives, and mission-driven enterprises. Our investors see substantial social returns in their own neighborhoods, and receive desired financial returns.
Join us and an entire ecosystem working to provide support to community-based organizations serving under-resourced communities, while helping provide loans for affordable housing and community facilities, don't hesitate, INVEST IN COMMUNITY VISION NOW.